Two scenes made the episode for me.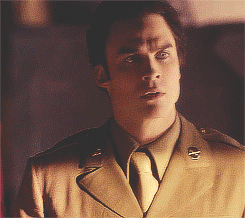 source
source
"A vampire only bonds to her sire when she already has feelings. Human feelings. Vampirism only heightens those emotions."
( TVD ramblings )
HAPPY HAVEN DAY and HAPPY WEEKEND YOU ALL!
Catching up soon :)
ETA just cause I have to write them down.
Damon's speculations. No spoilers.
OMG all these "Damon is going to die by the end of the season and once Elena and Stefan will get him back, the sire bond will be broken" speculations are seriously scaring me.
I could barely deal with his death in the books, I can't even imagine my reaction if I get to see it on the show. I would cry all my tears...but the more I think about it, the more it makes sense.
Damon is not going to give up on Elena. Not to mention that if he did, he should have to go since he and Elena couldn't be in the same place...so yeah Damon will fight for Elena.
Plus professor Shane is working on some kind of spell to bring people back. It was hinted in 4x08 talking about Haley's parents.
So what if Damon dies and he is brought back? Is it possible that he comes back as human?
OMG TVD is having me speculating and I think last time it happened was with SPN S5.
Yay!!!